Ardamax Keylogger With Activation Code 2022
Ardamax Keylogger 5.3 Crack is a Keylogger software developed by Ardamax Software. The software allows to capture the user's activity and maintain any documentation and registration files in an encrypted space only for the use of the administrator. Ardamax Keylogger documents everything that each user has done on computers at school, office or any network environment. While Spy software looks like a violation of privacy and something that administrators would not like to experiment with for themselves, it is intended for everyone's safety.
Meanwhile, the administrator can see his registration file in the text format or website. It allows them to discover all the activities on computers immediately, as well as save a copy of the data written in the software. Parents can use this software to monitor their children's activities. Computer class teachers can see their students are connected to another website. Employers can discover other applications and pages that their employees are currently accessing.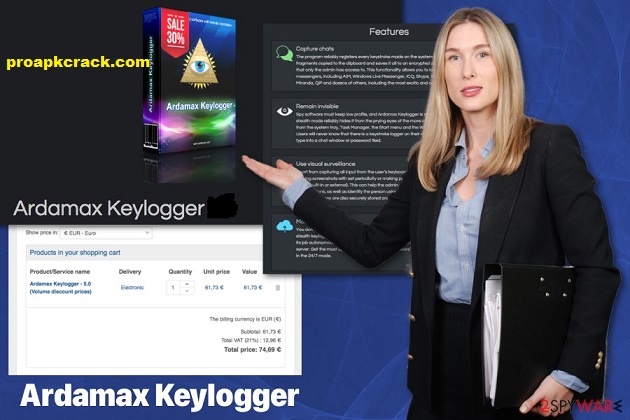 Ardamax Keylogger comes with powerful characteristics and tools that can help protect his computer. This software can keep a record of each activity on your computer. You can use it to monitor its use of the Internet and prevent intruders from registering registration keys obtain unauthorized access to your computer. He also tracks all files, even those he does not use on his computer.
This is one of the best Keylogging software available. Ardamax Keylogger will monitor activities on his computer, so he will know if someone has obtained unauthorized access to his system. Store all the information by date, so you can easily seek sessions initiated that have written any suspicious words. It is an excellent program, especially if you want to monitor your computer while you are away.
In addition, Windows will save all the work done on the desk, and all stored items are stored in encrypted documents that users can access later to see what happens. Ardamax Keylogger offers a new way of protecting children from abusive websites and monitoring their children's work. The program does not affect and does not slow down the system.
Ardamax Keylogger is not very complicated to use. Once installed, the registration will be activated automatically and will begin to record all the actions that take place on the computer. Its interface is very simple and intuitive and will have no problem using it. It is important to configure the program correctly to adapt it to your needs. If you have any questions about how it works, Ardamax Keylogger will surely have a tutorial that can verify.
Ardamax Keylogger makes it easier to know where exactly a pulsation key was pressed. Every time a key pulsation is written, Ardamax Keylogger will record the application that was in use that the key pulsation received! Perfect for when Ardamax Keylogger comes out working for days and needs to know when a specific key was pressed!
Ardamax Keylogger is an affordable tool that quickly captures all user activities. Save information in an encrypted record file. You can save the record file without any hard work. Ardamax Keylogger can see how a website is monitored. It allows you to make a backup of all kept the type of data without monitoring. Ardamax Keylogger is an application of several languages ​​that records everything.
Features.
Inappropriate content insurance children. It is an excellent application for your children since you can use the password to avoid showing any inappropriate content to your child.
Restore lost files. It helps you bring back and recover the deleted tickets. You can also restore your existing entry, the password that you do not remember, address, name and even more text cut, which you cannot find due to a system collapse or suddenly finish.
Informing directly through FTP. Information is directed through FTP, email or on the given network. You can also establish an interval to obtain reports, including web camera records, websites, keys and more.
Take screenshots and record your records. It also consists of screenshots of your records. After capturing, save it automatically in built-in registration files.
It is executed silently: it operates in the background in the background and monitors and records each key pulsation in its system and keeps the entire entrance to a reliable record file accessible exclusively.
Capture your chats.
You can remember the program launched; The texts are written and chatted. You can capture the online chat and web operations.
Safe and safe spy software. It allows you to verify how your computer is used in your absence. If you want a spy for your system
What's New.
In addition, use Keylogger for all your actions and keep them in a record file in a short time
The function that helps him to verify what is happening in his Windows system when he is not using it is improved
In addition to the above, you can restore your eliminated activities.
 System Requirements.
Size: 1.7 MB
English language
Producer: Ardamax software
Category: Keyloggers and Monitoring
System: Windows Vista/ 7/8/10 Pro/ XP
Activation Code.
48USF-49FOE-4R0FO-30EDG-499EO
EIOCE-90FWE-93ODP-89O4R-4FSKV
48USF-49FOE-4R0FO-30EDG-499EO
48USF-49FOE-4R0FO-30EDG-499EO
48USF-49FOE-4R0FO-30EDG-499EO
48USF-49FOE-4R0FO-30EDG-499EO
48USF-49FOE-4R0FO-30EDG-499EO
48USF-49FOE-4R0FO-30EDG-499EO
How To Download?
First, download and then install.
Turn off the internet.
Use the code to activate the software.
Wait for activation.
Finally, everything is ready.
Enjoy!😍